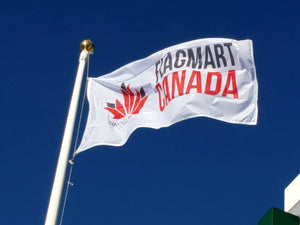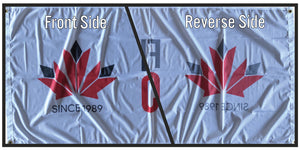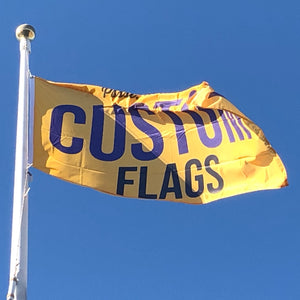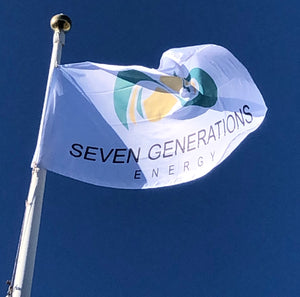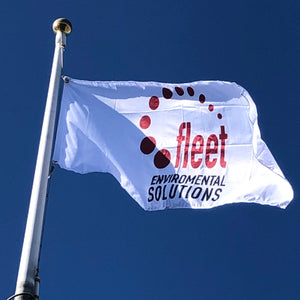 Custom Printed Polyknit Flag
Make Your Own Custom Flag Online

You can be done in as little as 3 Minutes!
Just choose the method you prefer to make a custom flag with FlagMart Canada
Option 1 - Drag and Drop your Art when you order online  (2-3 Minutes)
Option 2 - Contact Us at 1-833-989-0313 to have a representative take care of everything! (5 Minutes)
Option 3 - Design your flag yourself using one of our provided templates
**Due to copyright restrictions, we are unable to print unauthorized reproductions of licensed merchandise.
Product Description
This is a completely customizable product. Your design will be digitally printed on high-quality knitted polyester to create the perfect flag for you. 
Municipalities, companies, universities, schools, and many other organizations use our flags regularly. 
Quality and Durability
Quality Materials | Made of light weight, high quality, 100% knitted polyester material
Fade Resistant | UV resistant material and inks minimize fading from sun exposure
Durable | waterproof and mold resistant to be effective in all climates 
Vivid Colours | Vibrant colours - noticeable from long distances
Quality Finishing | Quadruple stitched at fly-end to resist tearing and reinforced with canvas header
Use of Custom Flags
Used by several industries as a way to mark their site, office, or campus.
Used to indicate a place for meeting/muster points and to mark specific areas on worksites and campuses. 
Can be used for personal use at residences or family farms and ranches
Outside display at golf courses, tennis courts, badminton courts, volleyball courts, and other sports fields.
Great for boat launches, marinas, cottages, etc. for both personal or corporate applications.
Can make racing flags, golf flags, or flags for personal use
Why Buy With FlagMart Canada?

Flags are available in all sizes and finishing. We offer both double-sided flags and single-sided flags.
Our flags are made fast! We manufacture our flags in Toronto and can produce a custom flag within 3-4 business days. We ship immediately after that so you have your flag in-hand quickly. 
The more you buy, the more you save! We offer volume discounts!! Check out our rates for volume discounts here!
Easy order process. Upload your artwork right on the site and send us special notes.
No vectorization or hidden fees. What you see is what you get. 

You will receive a pre-production art proof for your approval before printing.
We will digitally print your design, logo, or artwork on high-quality knitted polyester to create the perfect flag for you. 
This product is 100% made in Canada to support the Canadian economy. 
Custom Flag Volume Discounts
SINGLE SIDED CUSTOM PRINTED FLAGS - COST PER FLAG 
| | | | | | |
| --- | --- | --- | --- | --- | --- |
| Single Sided | 1 | 2+ | 5+ | 10+ | 25+ |
| 36"x18" | $117.95 | $94.95 | $74.95 | $49.95 | $32.95 |
| 54"x27" | $132.95 | $101.95 | $78.95 | $59.95 | $49.95 |
| 72"x36" | $157.95 | $122.95 | $97.95 | $72.95 | $65.95 |
| 90"x45" | $217.95 | $170.95 | $134.95 | $99.95 | $79.95 |
| 108"x54" | $229.95 | $183.95 | $144.95 | $129.95 | $104.95 |
| 144"x72" | $342.95 | $279.95 | $224.95 | $199.95 | $189.95 |


What Size Flag Should I Get?
See Our Sizing Chart for more info on the right size flag for your flag pole. These high-quality flags suitable for hanging outdoors on a flag pole.
We also custom make casket flags, you can create your own or you can choose any flag on the site and we can finish it for you so it is hemmed all the way around without any header. 
Should I get a Single-Reverse flag or a Double-Sided Flag?
Not sure which one is right for you? Check out this post to get some help with your decision!
Single Reverse Flags are the most popular flags. Single reverse flags are printed on one side and the image bleeds through to the reverse side. These flags are lightweight and recommended for flying on a flagpole.  
Double-sided flags are typically not recommended for flying on a flag pole. They are made by printing two flags that are then sewn together with an opaque liner partition. The extra weight of the flags makes them more prone to wear and tear. Double-sided flags are best when being used as festival flags, protest flags, rodeos parades or other events.  
For more answers to questions, please check out our FAQ page
-----
At FlagMart Canada, we are happy to customize your order or help you to amend it to fit your needs. For other sizes or materials, please reach out via the contact us link.  
Picture of the Canada 2-0 Purple Flag God Loves you Kici Manito Osakihin flag generously provided by our customer Bruce Ross. 
Fantastic Custom Graphics
I ordered a custom flag and was very happy with the outstanding job done to reproduce the image I sent, very crisp and wonderful colour. Great service and will be ordering again
Very late.
Originally the order was supposed to be filled and a defect on the product was noted. So it took a little more time than usual which is fine. However I was told that it would be mailed asap and I would be getting it a week later. Fast forward to that week and still nothing so I call back to inquire and it still was not out I'm the mail. Unfortunate I had to call 3 times to verify and make sure it was mailed.
Speedy delivery and great customer service
They easily filled my request much faster than usual, very great company