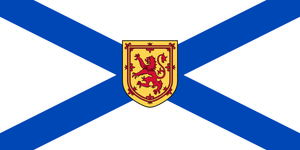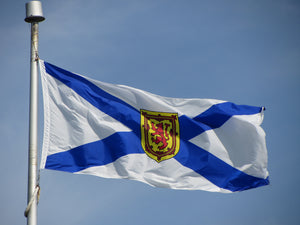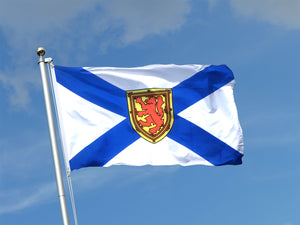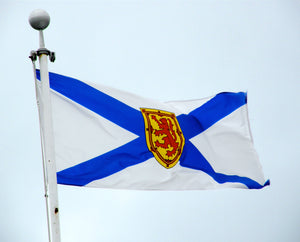 Nova Scotia Polyknit Flag
Buy Online - Official Nova Scotia Flag
Looking to buy flags online? Look no further, we have numerous flags for sale in our online store. We offer high quality flags for sale online with free shipping over $49.95!
Sizing

See Our Sizing Chart for more info on the right size flag for your flag pole
Product Description for the Nova Scotia Flag
The Nova Scotia flag is 4 colours and is screen printed in several sizes. The flags are lightweight and shipped in small boxes to minimize shipping expenses. 
At FlagMart Canada we carry all sizes of Nova Scotia Flags online. You can buy your Nova Scotia flags by using the below charts to determine what flag size you need based on your flagpole. If you require one for indoor use on a wall, the most economical option is the polyester flag with grommets.
Shipping occurs within approximately 3 days from the date of purchase. Whether you live in Halifax, Cape Breton, Kings or smaller cities such as Pictou, Colchester, or Lunenberg. We ship all across Nova Scotia and Canada
Interesting Facts
Created in 1858, the flag of Nova Scotia is a banner of the coat of arms of Nova Scotia, which were granted to the Scottish colony by King Charles I in 1625.

The flag of the modern Canadian province, a blue saltire on a white field (background), is a simple figure-ground reversal of the flag of Scotland (a white saltire, Saint Andrew's cross, on a blue field), charged with an inescutcheon bearing the royal arms of Scotland, a gold shield with a red lion rampant surrounded by a loyal double tressure (a double border decorated with fleurs de lis).

The similarity to the Scottish flag reflects the province's name, which is Latin for "New Scotland". Nova Scotia was one of the few British colonies to be granted its own coat of arms, and the flag is the only one of the original Canadian provinces dating back to before confederation.

Despite continuous usage of the flag to represent Nova Scotia since 1858, the flag was only recognized by the provincial government of Nova Scotia as the official provincial flag in May 2013, through the Provincial Flag Act, after an eleven-year-old girl researching a project realized that no one had recognized the flag officially in 155 years of usage.
Need some amendments that are not offered on this page, no problem. Contact info@flagmartcanada.com to speak to a representative.
Canada Post 👎🏻
Would love to tell you, but Canada post hasn't delivered it yet 🤬