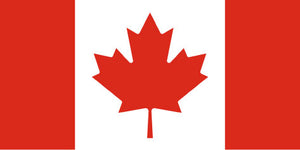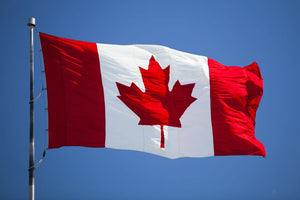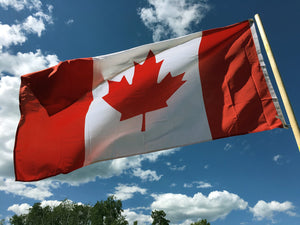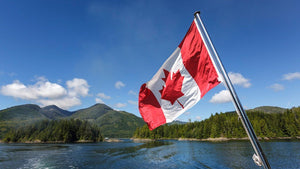 Buy Online - Official Canadian Flag
Product Description
The Maple Leaf Canada flag is screen printed in several sizes. At FlagMart Canada we carry all sizes of Canada Flags online. You can buy your Canadian flags by using the below charts to determine what flag size you need based on your flagpole. If you require one for indoor use on a wall, the most economical option is the polyester flag with grommets.
Sizing
See Our Sizing Chart for more info on the right size flag for your flag pole
We also custom make casket flags, you can create your own or you can choose any flag on the site and we can finish it for you so it is hemmed all the way around without any header. 
Detailed Description
The Maple leaf flag is the national flag of Canada. It consists of a red field with a white square at its centre in the ratio of 1:2:1, in the middle of which is featured a stylized, red, 11-pointed maple leaf charged in the centre. It is the first flag approved by the Parliament of Canada for use as the country's national flag replacing the unofficially used Red Canadian Ensign. 
In 1964, Prime Minister Lester B. Pearson formed a committee to resolve the ongoing issue of the lack of an official Canadian flag. There was three choices but eventually the design by George Stanley was chosen. It was based on the flag of the Royal Military College of Canada was selected. The flag was officially used on February 15, 1965 (National Flag of Canada Day). 
Awesome quality.
Ask me again in a year and see how it holds up.
So far it's very nice
Satisfied
We are very satisfied with our Flags and the service was amazing.
I just got it day before yesterday, haven't checked it out yet because it's for my school and I'm on vacation now
We live in a very windy part of manitoba and the material seems to outlast the nylon flags we've had in the past. The last flag we ordered from you ripped at the end seam, not sure how to strengthen that area. We love your product. Disappointed with not being able to get the larger size we wanted and the delivery of the product was extremely slow. Otherwise very satisfied
Not satisfactory service once payment was made
Very disappointing service from your store once the order was placed. I was not kept up to date on the progress. I received notification from Canada Post that the item was to be delivered by them and you your store failed to deliver it to Canada post. I ordered the items more than 20 days ago and ONLY received them on Friday the 27th May 2022. This is not what I had been led to expect.
Hopefully the quality of the flags will not be as disappointing. Hence still TBC